7 Incredibly Useful Interstate Moving Tips from a Cross Country Moving Company
Moving house can make for a stressful, time consuming and expensive undertaking. The process is likely to be even more demanding if you are moving to another state. This struggle is why many people look for tips from experts as well as family and friends who have made a move at some point in their lives. Here are a few tips to follow if you want to make the long-distance move seamless and manageable.
 1. Plan Ahead
Interstate moves will be a major life event, making it essential to ensure proper planning if you want the process to carry on smoothly. You should plan the packing process early enough, buy the necessary packing materials promptly and research moving companies several weeks before the day of the move. This planning will help you to avoid forgetting anything of importance.
 2. Come up with a Budget
There is no doubt that interstate moves will be costly. The best way to ensure that you make a move without breaking the bank would be to come up with a budget. However, you must make sure that your estimates are flexible enough to accommodate any unexpected costs that may arise.
 3. Pack Efficiently
Packing is an important part of making a long-distance move. Besides downsizing to reduce the weight of your belongings and lower the cost of moving, you should make sure that all boxes are labeled. According to this Vegas company, labeling helps maintain organization and makes unpacking less stressful.
 4. Consider Mobile Storage
If you still have not found the perfect home in the new area, you may want to look for somewhere to stay on a temporary basis. Doing this will require that you also find a safe place to store your belongings. Going for a company that offers both mobile storage and long distance moving services will provide you the convenience you need.
 5. Choose the Best Mover for the Job
Hiring the best moving company will ensure that the process goes on smoothly and according to plan. When looking for a mover, you should consider factors such as professionalism, customer service, experience and the quoted prices. Experts from such a company will also give you more tips on making interstate moving less stressful.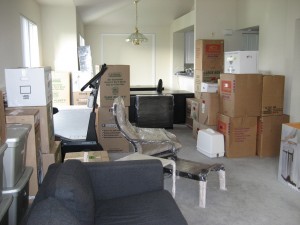 6. Insure your Belongings
If your stuff gets lost or damaged during the move, you may suffer massive financial losses. Properly insuring all your belongings will give you the peace of mind that comes with knowing that you are covered. With the different coverage options available, proper research will help you make an informed decision.
 7. Get Acquainted with the New Area
It will take time before you change your attitude and have an emotional attachment to your new home. If you want to make the process easier, you should familiarize yourself with the area and give yourself time to adjust accordingly. If you don't know anyone, try finding a meet-up group that shares similar interests to make new friends.
Even with lots of decluttering before making a move, you will still have to do away with certain things when you arrive in your new home. You may consider selling the items or giving them away as gifts. At the same time, you should expect to buy additional stuff depending on the style of your new home.